Our fleet
Our fleet consists of recently registrated buses, minibuses, minivans and cars equipped with modern facilities and comfortable accessories. We have vehicles with capacity from 3 to 55 seats, equipped with the latest amenities to offer a travel experience at the highest levels.
The amenities include:
reclining seats
air conditioning
tinted windows to ensure your privacy
mini-bar
DVD player
radio-cd
navigation system
WC.
1 BUS SETRA 416 HDH EURO 5 CON FAP

Seats 55 + 1 + 1
Air conditioning
Footrests
Coffee Maker
1 BUS MERCEDES TOURISMO EURO 5 EEV

Seats 53 + 1 + 1
Air conditioning
Footrests
Coffee Maker
1 BUS VDL FUTURA EURO 5 MT 1290

Seats 55 + 1 + 1
Air conditioning
Footrests
Coffee Maker
3 BUS VDL FUTURA EURO 6 MT 1220

Seats 51 + 1 + 1
Air conditioning
Footrests
Coffee Maker
1 BUS MAN'S LION COACH EURO 5

Seats 53 + 1 + 1
Air conditioning
Footrests
Coffee Maker
1 BUS KING LONG 6996 EURO 5

Seats 33 + 1 + 1
Air conditioning
Footrests
Coffee Maker
Fridge
GPS
Back camera
Leather seats
1 MERCEDES SPRINTER EURO 4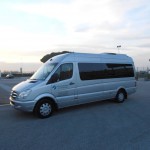 Seats 13 + 1 + 1
Air conditioning
Footrests
1 MERCEDES VIANO

Seats 7 + 1
Air conditioning
1 MERCEDES R EXTRA LUNGO

Seats 6 + 1
Air conditioning